The available water for agriculture is decreasing day by day due to increase in population, industrialization, and short rainfall. it has become essential to use modern irrigation technologies like Drip irrigation, sprinkler irrigation in agriculture
Drip irrigation means providing the required quantity of water directly to the root zone of Crop plants through a network of small pipes this is also called micro-irrigation
This is most efficient irrigation technique.
In Drip irrigation system water supplies to plant roots through a collection of plastic pipes, lateral tubes, and valves. These components, controlled with the help of dripper and water pump. with help drip irrigation system it is become easy to provide liquid fertilizer to plant root system.
Drip Irrigation Advantages
Drip irrigation Saves water around 30% – 60%  as compared  to flood irrigation
It is observed that crop yield increase up to 230%.
Fertilizer use efficiency increase by 30 percent
Reduce Weed growth
Save Labour and electricity cost is much significantly less than other irrigation methods.
For drip irrigation, Field leveling isn't vital.
Easy to maintain Moisture near the root zone
Water supply is extremely optional, controlled by way of each nozzle.
Help to reduce Soil erosion
Enable the use of saline water for irrigation
components of drip irrigation system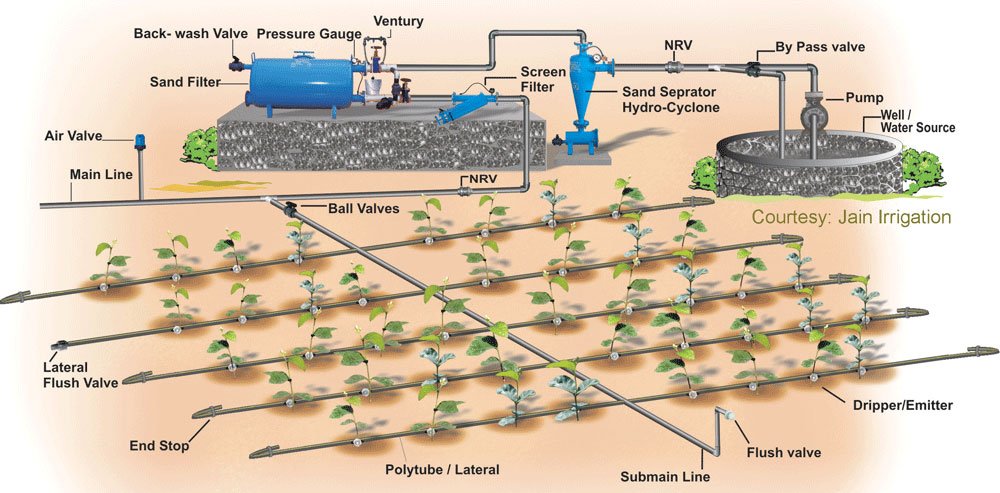 Drip irrigation system is made up of the filter unit, mainline, sub-mainline, lateral pipes, dripper and other accessories such as control valves, pressure gauge, Fertilizer tank/venturi, etc.
1. Filter unit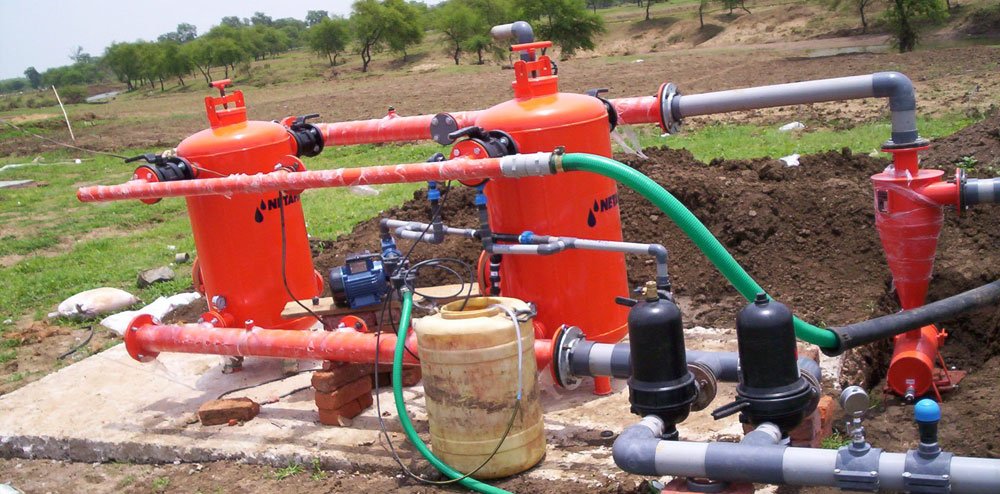 A filter unit cleans irrigation water impurities that are suspended and prevent blockage of holes. there is various type of filter available in the market.
There are Three Types of filters namely Hydrocyclone Filter, Media filter, and Screen or Disk filter available.
Suitable filters are installed according to the impurities found in the source of water.
If the source of water is a bore well with less of physical impurities you can install only screen filter.
If the source of water is an open well or a Canal install screen or disc filter along with sand filter and Hydrocyclone Filter.
To work drip irrigation system properly two-stage filter unit is used.
a) Hydrocyclone Filter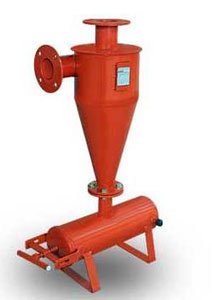 Hydrocyclones filter creates centrifugal force and spins out sand from water. The hydrocyclone Filter generates a spinning activity causing the sand particles to separate out of the water and be trapped in a storage tank at the bottom of this device.
b) Media (Sand/ Garval) Filters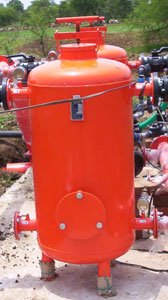 These filters come as the primary filter unit, and this is powerful against inorganic suspended solids, biological materials, and other organic substances. Gravel filter or sand filter is vital for the open reservoir, even where algae growth occur in the water source.
The dirt is ceased and gathered inside the press in the filter.
b) Screen Filter: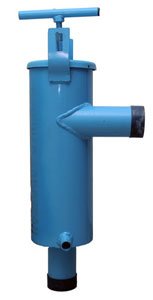 Screen filer is installed with or without gravel filter,  depend upon the quality of irrigation water. The screen filter is made up of non-corrosive plastic or metal substance.
c) Disc Filter: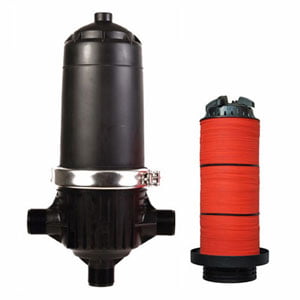 Disc filter comes as part of the secondary filter unit. Multiple circular discs filter water. it  is made up of high-quality plastic material
2. MainLine:
The mainline pipe pass water from the filtration unit to the sub-main pipe. This pipe made of PVC material. The diameter of this pipe depends upon drips irrigation system flow capacity. normally 2.5 – 4 Inch diameter PVC pipe used as main-line.
Mainline & sub-main should be installed in a Telescopic manner that is the pipe with a larger diameter should be connected first followed by pipes with a smaller diameter. this arrangement helps to maintain uniform pressure in the system.
Mainline should be buried at least 45 centimeters to prevent them getting damaged during cultural operation.
3) Submain: 
Sub-main pipe pass irrigation water from mainline to lateral The diameter of Submain is smaller than the mainline pipe.
4) Laterals: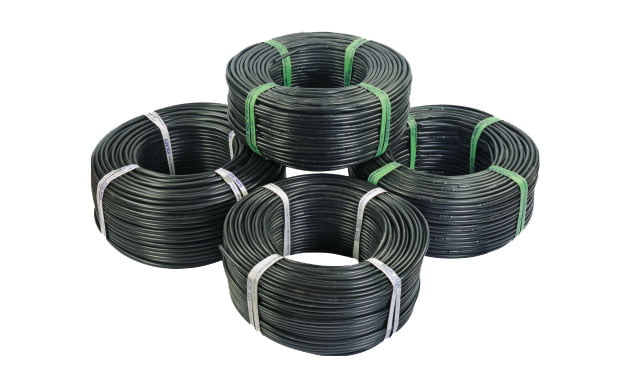 Laterals are made up of low-density polyethylene (LDP) or linear low-density polyethylene (LLDPE) material and available in different size 12 mm, 16mm, and 20 mm.
Based on the availability of water, crop and spacing 12 millimeter 16-millimeter laterals install.
5) Drippers:
Drippers also called emitters. The dripper is discharging water from the lateral pipe to the soil. Mainly, two types of dripper are available in the market. Online Dripper and  Inline Dripper
a) Online Dripper: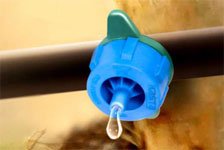 In this type of dripper, they placed on lateral, so it is called online dripper. The holes are made on lateral from outside as per our requirement this type dripper use for mostly for Orchard Crops like coconut, pomegranate, guava, etc. the capacity of discharge of water available  2 L / hour, 4 L / hour and 8 L / hour.
b)  Inline Dripper: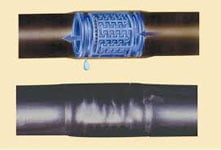 In this type, dripper placed inside the lateral pipe. The distance between two drippers is same. There are three types available inline dripper.
Non-Pressure Compensating Drippers (NPC): This is a very simple dripper, which does not maintain uniform pressure
Pressure Compensating Drippers (PC): This dripper is more advanced, it maintains uniform pressure in all dripper. it mostly uses for the greenhouse crop, the price of this dripper slightly high.
Non-Draining Drippers: This dripper is mainly used in soilless like medium like cocopits, Perlite and Vermiculite.
Fertilizing Unit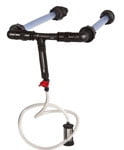 With the help of this fertilizing unit, liquid fertilizer is provided to the plant through a drip irrigation system. venturi or fertilizer tank is used for Inject fertilizer into the system.
Pressure Gauge: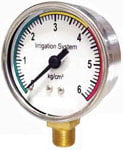 It is used to determine water pressure in drip irrigation system.
Controls Valves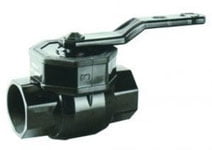 This value used for control water flow. They made up of plastic and iron material
Flush Valve: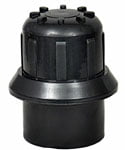 The flush valve is placed at the end of the sub-Maine pipe it uses to flush out dirt.
Non-Return Valve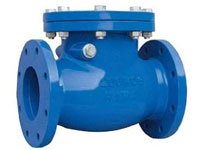 Non -return valve is useful to stop return water toward the water pump.
Air valve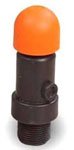 It helps to prevent sucking of mud by the drippers and release air in the drip irrigation system.
 Drip Irrigation System suitable for this crop
Crop Type
Crop
Vegetables
Tomato, Capsicum, Cabbage, Chilly,
Cauliflower, Onion, Brinjal, Bitter Gourd,
Ridge Gourd, Peas, Cucumber, Pumpkin,
Spinach etc
Cash Crops
Sugarcane, Tobacco, Cotton
Poyhouse crop
Gerbera, Dutch rose, Carnation, Anthurium,
Lily, Orchids, Strawberry etc
Plantation Crop
Coffee, Coconut, Tea, Rubber, etc
Orchard Crops
Banana, Grapes, Citrus, Orange,
Pomegranate, Mango, Guava,
Pineapple, Cashewnut, Coconut,
Papaya, Watermelon, Muskmelon,
Litchi, Lemon, etc
Drip irrigation system cost
The Cost of drip irrigation system installation depends upon various factors, like what kind of crop you are sowing, type of terrain, quality of soil,  sowing pattern,  water quality, quality of drip material, manufacture company of drip irrigation system and design of the drip irrigation system.
Drip irrigation system cost per acre For vegetable crop will come around Rs. 50,000–65,000 per acre approximately and  For fruits crop, if they are planted in the 3X3 pattern cost per acre for drip irrigation system come around 35,000- 40,000  approximately.
Government Suggestive cost of drip Irrigation system: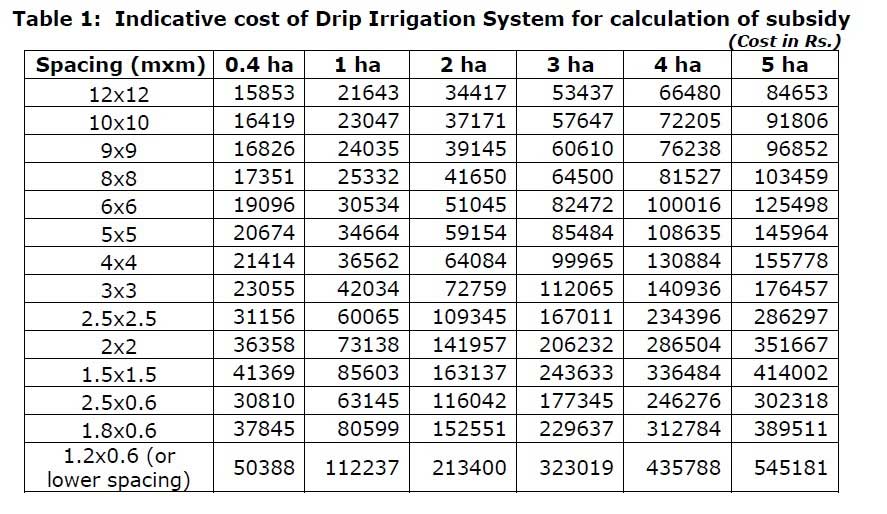 Ref: Pradhan Mantri Krishi Sinchayee Yojana (PMKSY)
If you using non-ISI material your initial cost for one acre come around 20,000-25,000 rupee for the vegetable crop but the life of non-ISI material for 2-3 years with high maintenance cost . while the life of ISI material is 7-10 years with low maintenance.
Government subsidy for drip irrigation
The subsidy available for Drip irrigation in India under Pradhan Mantri Krishi Sinchayee Yojana (PMKSY). The government of India gives subsidy per beneficiary up to 5 hectares. There has been financial assistance under different categories and depending upon the category of States for dessert, drought, hilly and other regions of the country. for more detail check PMKSY website or contact nearest agriculture office.
List of  Top Drip irrigation companies
These are Top Drip irrigation manufacturer company in India
Guidelines For Maintenance Of Drip irrigation system
Drip irrigation is a mechanical system. Which performs at a specific pressure of water, if the system has to perform well for a long time the pressure should be properly maintained.
Even if good quality materials are used and installed in a scientific manner, there is a possibility of failure. if the field maintenance is not proper and regular therefore management of drip irrigation system is very important.
Follow these guidelines to maintain drip irrigation system –
A. General care
Check all Working emitters or Dripper, Inspect the water leakage and make Sure that water is uniformly distributing all of the corners of this plot/field.
Check water dispensation area If their dry patches are found increase drip irrigation operation time.
If a twist, fold, cut, puncher is observed on lateral, sub-main, valve correct it immediately.
B. Clean the filters.
The filter is the main part of the drip irrigation set. if the filter is not working properly there is the major chance of complete drip irrigation system Failure.
1. Sand filter:
Clean sand filter after every week. Backwashing facility available in sand filter uses this by allowing water flow through the lid instead of the water valve and stir the sand in the filter. So, the waste which is sitting at the bottom will come and go out of the water
2. Screen Filters/ dice filter:
Open the lid and remove the mud and garbage trapped. Open the filter and remove the filings and rubber seals and clean it on both sides.
3. Submain pipe and Laterals tubes:
Sometimes a fine particle, dirt pass through filter and store in the main and sub-main tubs, Laterals, Therefore, to clear these tubes, remove the end cap, Flush Valve and let the water flow. Do this until the clean water come.
C. Chemical Treatment:
The drippers are stopping working due to various  alkali
If the amount of carbonate, bicarbonate, chlorides, sulfur, manganese, and calcium, sulfur sulfate is higher in water, yellowish dots appear, and the reddish dots appear on dripper and if the amount of iron is high red spot appear on dripper following treatment carried out.
1. Acid Treatment:
Acid treatment useful for though dripper and laterals blocked by various chemical impurities including fertilizer residue. This impurity can be removed by treating the system either with hydrochloric acid or sulphuric acid or nitric acid among this hydrochloric acid at 25% dose is best for the acid treatment.
Method:
Take required amount of hydrochloric acid in water. Inject it into the system through the Venturi or fertigation tank. The system is filled with water allow acid solution into the system until the pH of 4. A check pH with litmus paper for both at the starting and the last dripper. close the system for 24 hours.
The acidified water in the system reacts with the salts deposited in the system and dissolves it. After 24 hours they are acidifying water along with the dissolved solids comes out of the system by flashing.
2. Chlorine reaction:
Chlorination is useful to remove the biological impurities collected in the drip irrigation system chlorination can be done either by using calcium hypochlorite, sodium hypochlorite, chlorine or calcium hydrochloride or bleaching powder.
Method
Dissolve the required quantity of bleaching powder in water one day before treatment. This solution is let into the system through Venturi or fertigation tank and allow it to stay in the system for 24 hours. after that open the end caps of the lateral and run the system for about an hour so that the impurities are thrown out of the system
Image source :